Cranmore Mountain Lodge: map locator (12)
859 Kearsarge Road
North Conway, NH 03860
Call 603-356-2044 or Send an Email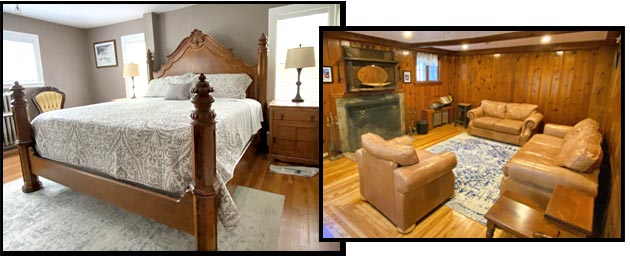 Classic New England style lodging located minutes from Whitaker Woods trails.

Join us at the Cranmore Mountain Lodge and enjoy our quiet, residential location just 3 minutes from North Conway Village, one mile from Cranmore Mountain and minutes from the trails in Whitaker Woods.
Originally built in the mid-1800s, Cranmore Mountain Lodge was completely renovated in 2022 to preserve the New England style decor. Cozy and comfortable. Our nineteen guest rooms are all uniquely decorated and offer you a variety of bedding choices including king, queen, twin and double beds and include two dog friendly suites with separate entrance. All rooms include complimentary Wi-Fi, hairdryer, keyless entry and large format smart TV/streaming. Relax in one of our common areas or spend time outside in warmer weather on the deck, by the pool or in the back yard by our private pond or brook. Explore the unmarked trails through the woods behind the Lodge in all seasons.
Made to order breakfast featuring locally sourced ingredients and cage-free eggs is included along with refreshments every afternoon. Enjoy dinner at one of the many area restaurants nearby.
FREE cross country skiing and snowshoeing!
Get 2 FREE tickets when you stay with us for a minimum of 2 nights.