The 32nd ANNUAL CHOCOLATE FESTIVAL -
Sunday, February 27, 2022

Join us for the Sweetest Day on the Trails!
Chosen as one of the "11 Delicious Chocolate Tours Around the World"

LOTS OF CHOCOLATE -
Participants in the last event held in 2019 event enjoyed dozens of different chocolate treats prepared by many area businesses including trailside members and other area bakers along with a tasting of Tuckerman's beer brewed locally in Conway, NH which were all included FREE with the purchase of their Festival Ticket.

Don't Miss the 2022 Event ... Mark Your Calendar for Sunday, February 27, 2022

Wow... it is exciting to think this event has been gaining popularity for more than thirty years! People come from great distances to cross country ski, snowshoe or drive from inn-to-inn along the trails of our 45 KM network to enjoy the spectacular scenery, warm hospitality, and great chocolate treats at stops throughout the network, most located along the trails.
Known by many as the 'Sweetest Day on the Trails", this may be the only day of the year when chocolate indulgence is totally guilt-free! Chocoholics cross country ski or snowshoe the trails to enjoy chocolate prepared every way imaginable. Many return year after year to enjoy the Chocolate Festival, often returning with a larger group of friends each time! Trailside businesses prepare a variety of goodies from hundreds of pounds of chocolate!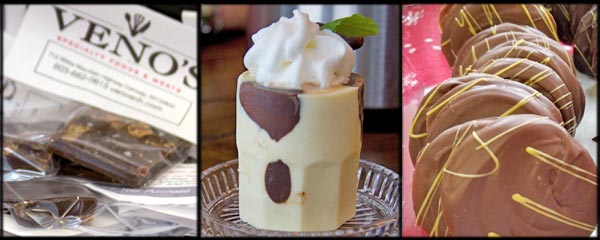 These are some of the treats served for the 2020 Festival participants. Veno's Specialty Foods & Meats joined us for the first time with their bacon chocolate bark (left) at the Whitaker Meeting House. which was a huge hit.The chef at the Samuel O'Reilly House, one of the newer stops just a short walk from the trails, served hot chocolate in their homemade chocolate cups (middle) made with a variety of chocolate. The Bavarian Chocolate Haus offered their lemon lunas (right) at Adventure Suites. Chocolate dipped strawberries, chocolate fountains and fondue, brownie sundaes, and chocolate cookies of all kinds are just some of the treats you'll enjoy at the trailside stops between 11:00 am and 4:00 pm.
More treats await the chocoholics that have completed the tour!
Present your Festival pass on the day of the event to other participating North Conway area businesses for more special offers. Check back for details about other area stops.!

Take a minute to view the Festival Map (coming soon!) online. Every participant will have a Festival map and brochure for each trailside business to validate to confirm your stop. Visit each of the trailside stops to enter the drawing for a $200 gift certificate to be used at any participating member business.
Tickets will be limited and only available to purchase online
or with a package at one of our member lodging properties.
Sorry, all season pass holders must purchase the Festival Pass
to enjoy the chocolate treats!