Cathedral Ledge Distillery:
map locator (9)

3340 White Mountain Highway
North Conway, NH 03860

Call 603-730-5696 or Send us an Email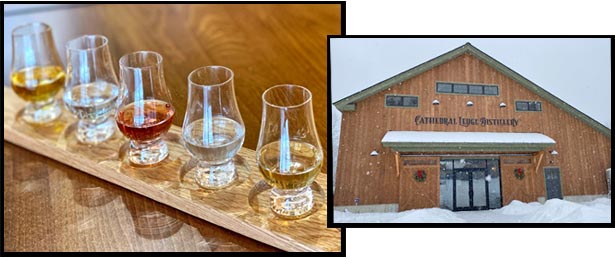 Plan a visit to one of the new trailside members for the 2021-22 season!
Cathedral Ledge Distillery presents a selection of grain to glass spirits. All of their spirits are USDA-certified organic and all of the grains are milled on-site. Their spirits are fermented, distilled and bottled at the foot of Cathedral Ledge.
Each flavor is hand-picked to include familiar tastes, new creations and seasonal favorites. Current organic offerings include vodka, new-make whiskey, rye whiskey, genever, gin, fig-infused vodka, blueberry-infused vodka, ginger-infused vodka, aquavit, horseradish-infused vodka and maple liqueur available.
Reserve your spot for a tasting!
The tasting room offers tastings of their spirits, bottle sales and a variety of merchandise to complement their spirits. Tastings are scheduled every half hour during business hours. Tours are scheduled on the hour. Walk-ins are welcome if space allows.
A tasting flight of five spirits is $12.50 per person. You can also try just one spirit for $2.50.
Tours are $10 for a group of up to eight people
Tasting Room Hours:
Sunday - Thursday: noon - 5pm
Friday - Saturday: noon - 6pm
Book online or call 603-730-5696.
Email us at info@CathedralLedgeDistillery.com for additional information.

Just a short walk from the trails!